The E-Ferry Project (Prototype and full-scale demonstration of next generation 100% electrically powered ferry for passengers and vehicles), funded by the European Commission under the Horizon2020  Program, was launched in June 2015 and is expected to have a duration of 48 months (05/2019). The project involves 9 partners from 5 different European countries with each their area of expertise. The overall objective of E-ferry is to apply an extremely energy efficient design concept and demonstrate a 100% electric ferry, in order to promote energy efficient, zero GHG emission and air pollution free, waterborne transportation for island communities, coastal zones and inland waterways in Europe and beyond.
E-ferry addresses the urgent need for reducing European CO2 emissions and air pollution from waterborne transportation by demonstrating the feasibility of a 100% electrically powered, emission free, medium sized ferry for passengers and cars, trucks and cargo relevant to island communities, coastal zones and inland waterways. The vessel will be based on a newly developed, energy efficient design concept and demonstrated in full-scale operation on longer distances than previously seen for electric drive train ferries, i.e. the medium range connections Soeby-Fynshav return (2×10.7 Nm) and Soeby-Faaborg return (2×9.6 Nm) in the Danish part of the Baltic Sea, connecting the island of Aeroe (Ærø) to the mainland. This is more than 7 times longer than the current record of 3 Nm. The ferry's name, Ellen, has been used for other ferries on Ærø, for instance the ferry sailing on the route Søby-Avernakø-Faaborg, from 1933-1960. The name is particularly suitable for the E-ferry, however, because the first syllable, 'El' is also the short form used by most Danes for the word 'electricity'.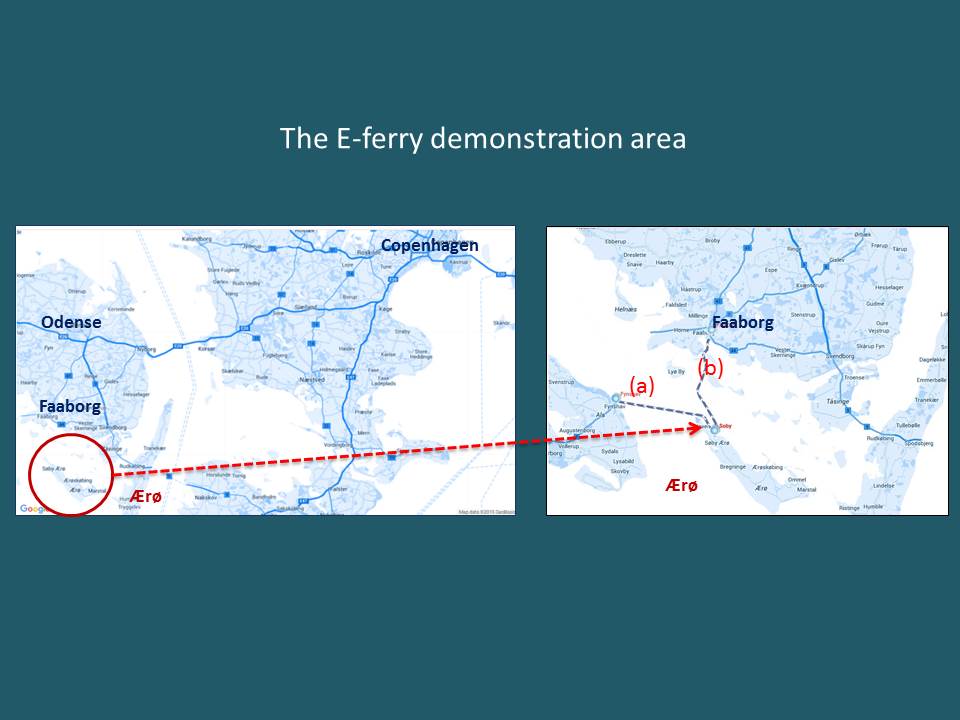 Ellen will have the largest battery-pack ever installed in a ferry with a record breaking high charging power capacity of up to 4.4 MW allowing for short port stays. On top of being 100% powered by electricity, the innovative novelties of the E-ferry design concept and its expected impacts addresses flaws in current state-of-the-art by demonstrating a concept based on optimized hull-shape, lightweight equipment and game-changing battery packs.
The 100% electrically powered Ro-Pax ferry, E-Ferry, has been designed with the capacity to carry 31 cars or 5 trucks on open deck and an amount of passengers accounting to 147 during winter and 196 during the summer. Charging will only be carried out in the island of Ærø, and in the high season the vessel has three 22 minutes breaks and three 32 minutes per day, as well as a 40-minute lunch break. In addition, a slow charging of 7.5 hours is carried out during the night.
The main technical specifications of the ferry prototype are provided below:
| | |
| --- | --- |
| | Technical Characteristics |
| Type | Single ended, drive-through Ro-Ro passenger ferry |
| Class Notation | 1A1, Car Ferry B, R4, ICE C, EO, Battery (Power) |
| Transport Capacity | 31 cars or 4 trucks and 8 cars, 147 passengers in winter, 196 passengers in summer |
| Dimensions | Length 59.4 m, breadth 12.8-13.4 m |
| Speed (draught of 2.30 m) | 13-15.5 knots |
| Deadweight | 235 ton |
| Gross Tonnage | 996 GT |
| Propulsion | 2×550 kW main motors, 2×250 kW thruster motor |
| Battery Capacity | 4.3 MWh |
| Charging Capability | 4 MW |
The E-ferry prototype is expected to reduce greenhouse gas (GHG) emission with 2.000 ton CO2 and 41 tons NOx per year, assuming that the batteries will be charged from sustainable energy-sources, i.e. electricity produced through wind power. In other words, the E-ferry prototype will be entirely free of GHG emissions.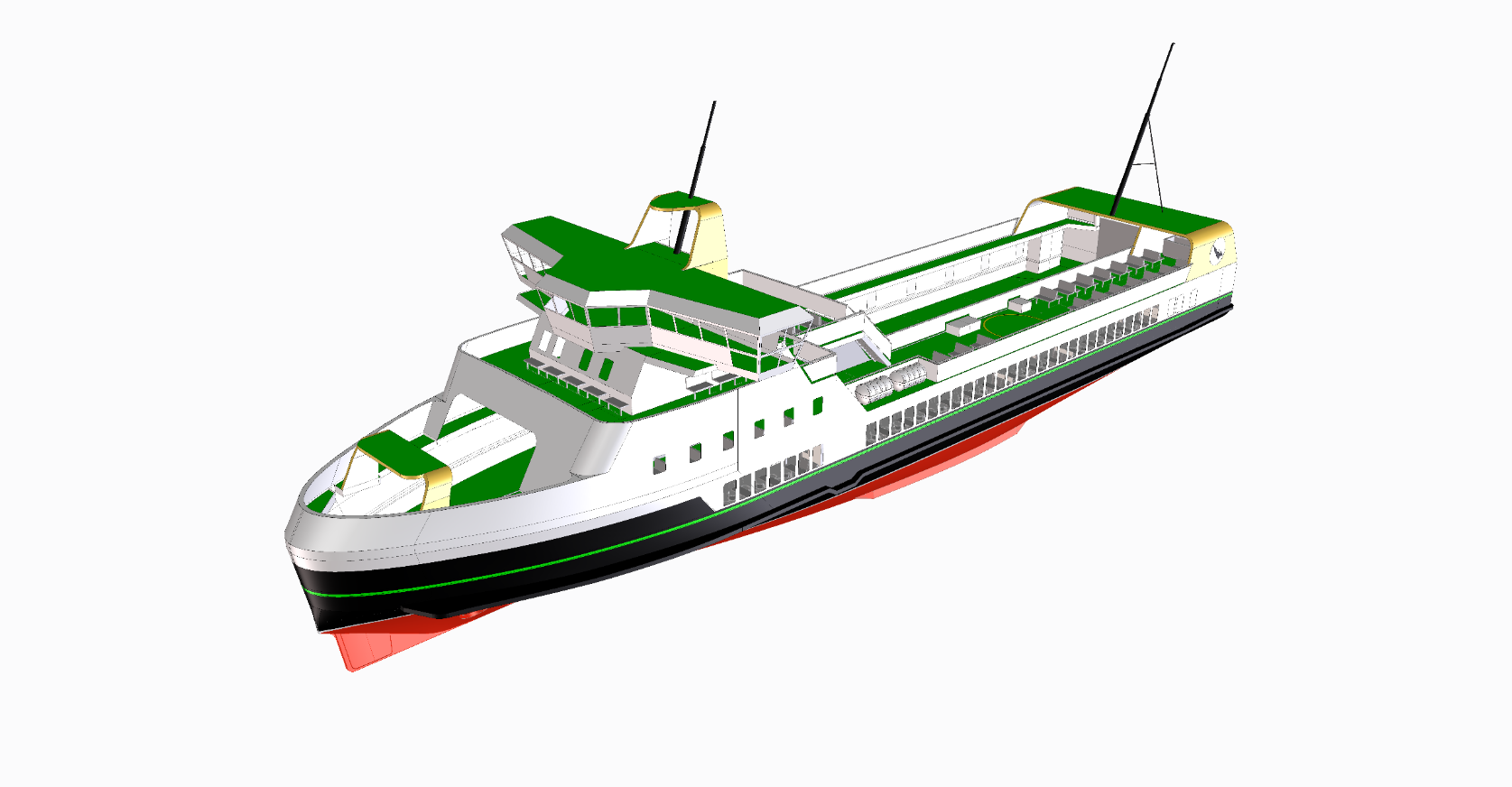 Construction work on the E-ferry begun in August of 2016, by SSH's subcontracting yard Ridzon, in Szczecin, Poland. In September, the 22 larger sections of the E-ferry were welded together and the hull was tugged from Szczecin to SSH's facilities in Søby on Ærø. Since then, several actions have been taking place including the finalization of the on-shore facilities, the training of the crew, as well as work onboard the ferry. The batteries are also close to finalization and Ellen is expected to start sailing before the end of the current year.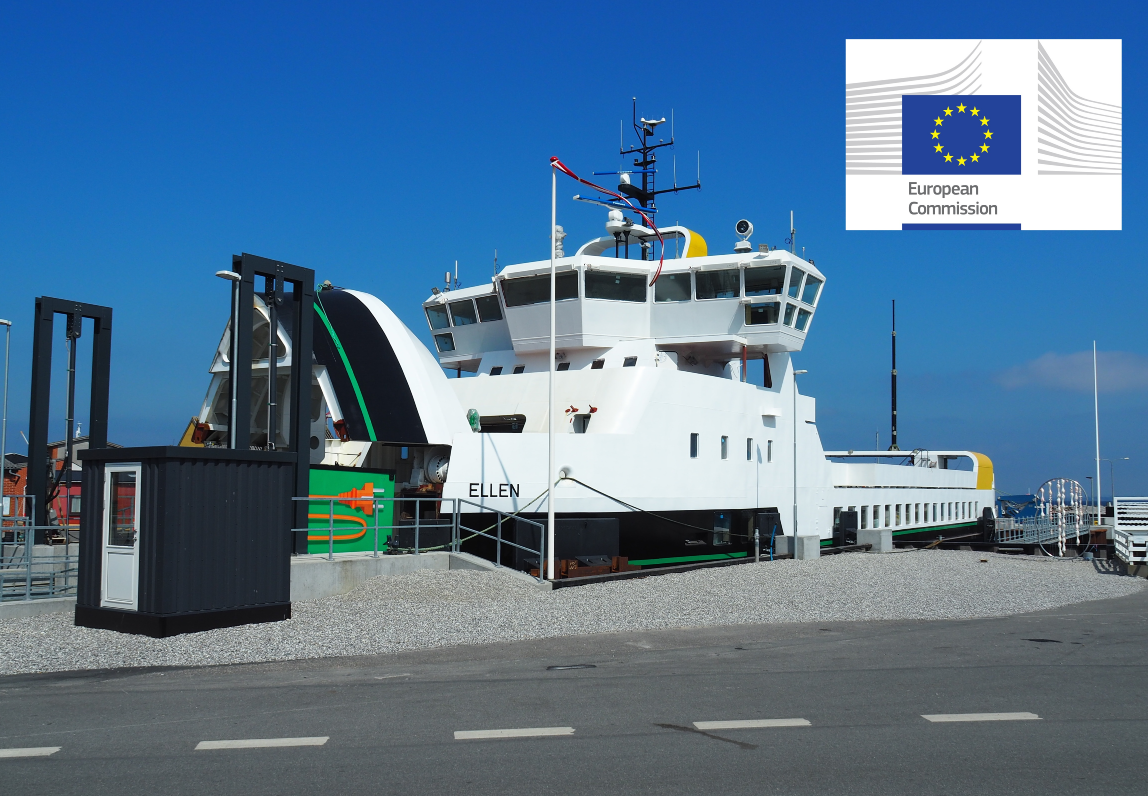 Ellen – The all electric ferry
This project has received funding from the European Union's Horizon 2020 research and innovation programme under grant agreement No 636027.